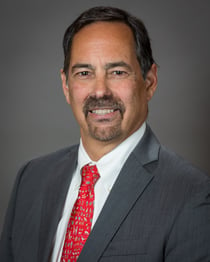 Jack Meskunas is the Executive Director for Investments at Oppenheimer & Co. Inc. He started in the investment industry in 1989 and began managing money for captives in 1991. He has always focused primarily on offshore captives, but does work with domestic captives too. During June 2020, he completed his ACI® Certification Program which he says has given him an even greater understanding—and appreciation—for what captives and captive managers do.
How has COVID-19 changed your daily life? The biggest change to me personally is being pinned down. I typically travel at least once a month and have been a "steady fixture" in Bermuda, Cayman and the major captive insurance conferences both on and offshore. I miss the personal touch I have always brought to the captive managers I work with, who have become good friends and colleagues over the years. As for "office life", there has been less of an impact, as my business was designated "essential". I have been in the office every week throughout the pandemic, although not every day.
If you had to identify one positive aspect of the situation, what would it be? One positive is being forced to get better with all the latest communications technology, to stay in touch.
What has been the hardest aspect of the situation for you? Having all the conferences cancelled. I was planning to attend CICA, the Bermuda Captive Conference, VCIA and the Cayman Captive Forum this year and they have all been either cancelled or turned into "virtual" conferences. As a service provider, the course content of the conferences is great, but it is secondary to the face-to-face meetings that occur all throughout the conference.
What are your thought about when normal life will return? I am not sure whether "normal" will be the "old normal" we were used to, or a "new normal." I think we have all developed a heightened sensitivity to germs and an awareness of social distancing. I believe an effective vaccine will get us to normal fastest, and until one exists, there will continue to be individuals that will not return to their "old normal" lives.
Do you believe the pandemic will highlight the importance of captives? Absolutely! One of the biggest advantages of captives is creating highly customized risk transfer. Many businesses are learning, the hard way, that their business interruption insurance didn't cover—or didn't adequately cover—the pandemic. I expect to see existing captives expand their offerings, and insureds using the commercial markets to look to captives for some or all of their insurance needs. I predict the next few years could be the best in recent history for the industry.
What advice would you give someone looking to start a captive in 2020? Get started now! Don't let the COVID-19 delay your plans. Find a manager and get a feasibility study going. There may be a resurgence of the virus in the Fall or Winter and this may mean that formation times take longer than expected. I would also recommend that you stay open-minded to new risks that can be transferred to a captive. Make the captive work specifically for you and your business.
What are your predictions on the future of the captive insurance market? I might be better at predicting the stock and bond market than I am at predicting the future of captive insurance, but I have been involved in the Captive Industry for 30 years and the overall trend has been one of growth. It is the focus of my asset management business and I choose to focus on it because I see it continuing to grow. As the commercial market continues to harden, there is no question on the need for captives.
Reach out to Jack Meskunas with any questions at jack.meskunas@opco.com.